Now I have made something different because I have used tubes. This is tube fly in probably two most popular salmon colours: black and orange.
I made this fly some time ago something about 6 months ago, but now I have found some time to prepare pictures and put them to this page.
Coming back to the fly for many of you the bead can be something new, however it also meets under the name Turbo cone – and this is why in the name of the fly I used this word.
This shape moves the fly and gives us the possibility to hold the fly in the current and it will provoke the fish to strike.
In my case I join the tubes and tie the fly on the needle from the Stonfo Tube fly vise.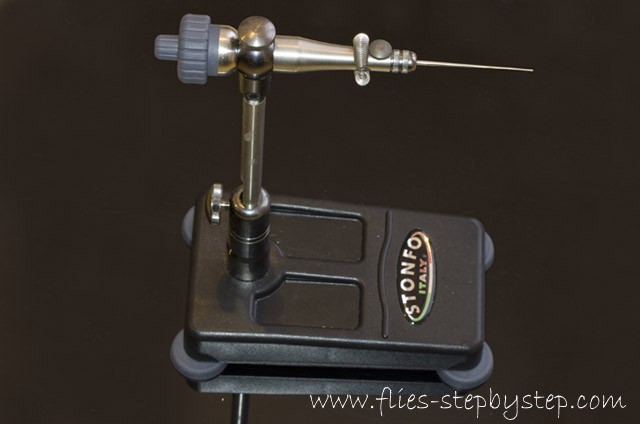 After inserting the inner tube into the outer tube I tightly pull the thread (I am using UNI 6/0), however this is not the end because I often also give in this place a little drop of super glue.
Additionally I going to write one sentence about the outer tubes from the Veniard set which are so flexible that they hold the tube fly hooks inside. There is no need to use other flexible tubing, like silicone tubing.
Small note: many kinds of carp hooks are perfect for tube flies, you need to check only size of the hook eye.
Materials:
Tubes: Veniard Scandinavian Style Fluorescent Tubing in Fluo Yellow – wide offer of tubes you will find here
Thread: UNI 6/0 Fluo Orange
Tag: mylar tinsel + UNI Yarn in Chinese Red
Body: black dubbing + UNI holo orange tinsel
Hackle no. 1 – orange Wapsi Strung Rooster Saddles
Wing no. 1 – orange fox + pearl krystal flash
Wing no. 2 – black fox + orange Flashabou
Hackle no. 2 – black Wapsi schlappen
Bead: Eumer Brass Monster Cones – medium gold
Krystian Niemy